Welcome to The Sweet Life experience!
The Sweet Life Store
We are so excited to share The Sweet Life - what we hope will soon become a neighborhood staple serving the best ice cream, coffee, & desserts in town. We have no sugar added, gluten free, lactose free & dairy free options including Dole Whip. Come for the treats. Stay for the company.

We are open 7 days per week.
Summer hours starting July 1st are:
Mondays to Friday 10:30 am - 9:30 pm,
Saturday & Sunday 10:30 am - 9:30 pm

NEW: Online store ordering! With 10 minute lead time we can have your online order ready for your quick store pick up!
Click the link to check it out!
https://www.clover.com/online-ordering/the-sweet-life-white-city
The Loft
Consider renting The Loft above The Sweet Life for your next event or meeting. We will work with you to create a comfortable environment with delicious coffee break options and desserts. Birthday party cakes also available.

The Loft is ready to rent. Consider ordering your food, drinks and pizzas online for your event in The Loft and we will bring it upstairs for you!
The Sweet Life Truck
We have ice cream & will travel! Bring our yummy treats to your next event or to your local community. We love sharing our smooth ice cream creations & can help make your summer even more memorable!

Truck operates from mid-May to early October. Our truck is ready to be booked. Contact us for more details!
Welcome to The Sweet Life Canteen at the Communiskate!
Closed for the summer but reopening in the fall.
We are so excited to to be a part of the Communiskate facility by offering delicious options from specialty coffees & teas - lattes, cappuccinos, london fogs, to hot food choices like poutine, chicken fingers, burgers, italian pizzas baked in a stone oven and mini donuts. We carry a wide selection of treats like soft ice cream, sundaes, Dole Whip, chips & bars. With beverage options from bottled pop, gatorade, chocolate milk, milk shakes, protein drinks & slush.


There will be specials added especially on tournament weekends from taco in a bag, or soups & chilli. Our menu will grow & evolve as we trial other delicious options.

Check out our Canteen menu!
We have breakfast options like freshly made waffles with syrup, strawberries & whipped cream. Or try one of our breakfast sandwiches that are made to order with your choice of sausage or bacon, egg and cheese on a fresh bakery bun.

We are licensed at the Communiskate and are able to serve alcoholic beverages after 9:30 am and can make you a bailey's milkshake, rum slush or a coffee & bailey's as you watch your player on the ice. Or grab a beer or a cooler to enjoy while you spend time at the Communiskate. We have a variety of great beverage choices for you to help warm you up or cool you down!





Our Canteen hours are dependent on the rink schedule but is currently closed for the summer & will reopen in the fall.

Our goal is to provide a delicious food & drink experience that is a step above what you may get at other facilities. Our coffee beans are sourced specifically for their great taste and have milk options like 2%, skim, almond milk and coffee creamer to meet your specific preference. Coffee syrups are available as regular or skinny syrups. We challenge you to try our coffees before making that extra stop to grab a coffee or tea as you are travelling to the rink. Trust us - you will be pleasantly surprised!
White City's Best Ice Cream, Coffee & Treats
The Sweet Life store is a neighborhood staple known for amazing ice cream treats, awesome coffee, yummy desserts, and a relaxed & friendly vibe that you're sure to love. Our goal is simple: to bring our neighbors the perfect cup of coffee, along with a creamy smooth ice cream dessert in a warm and inviting space. Stop by to grab a treat and enjoy a seat on the deck or in the park while you enjoy our real soft ice cream in handmade waffle cones or enjoy a delicious espresso. We even have a Dutch order/serving door at the back for the warm weather months so you can bring your pet for a walk and still enjoy a treat! Consider booking The Sweet Life Truck for your next gathering or community event. Let us sweeten your day! Or stop by the Sweet Life Canteen at the Communiskate to grab something hot to eat along with a cool treat!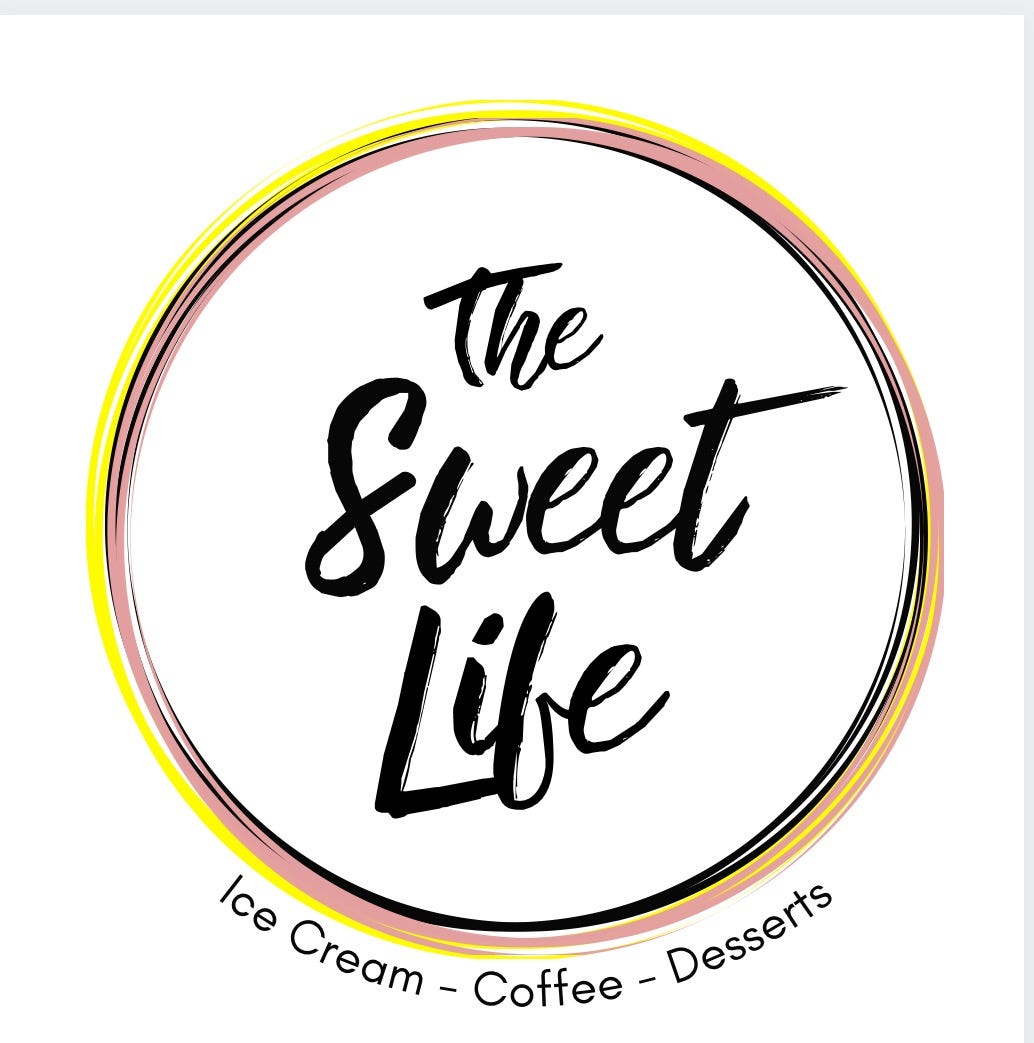 Our Story
What started as an opportunity to start a mobile ice cream truck business in 2020 grew our desire to build a bricks and mortar store that combined our love for fantastic ice cream, coffee and yummy desserts! So are proud to start a business in our home community! The shop is now officially open!

We re-branded our Swirl's truck to The Sweet Life Truck- offering what we hope will bring joy and smiles to our customers faces. Whether you enjoy treats wherever our truck is parked or you visit us at our permanent location in White City,
you will be sure to enjoy every bite!

Consider booking The Loft for your next meeting or small event. It is a beautiful unique space that is sure to meet your needs.