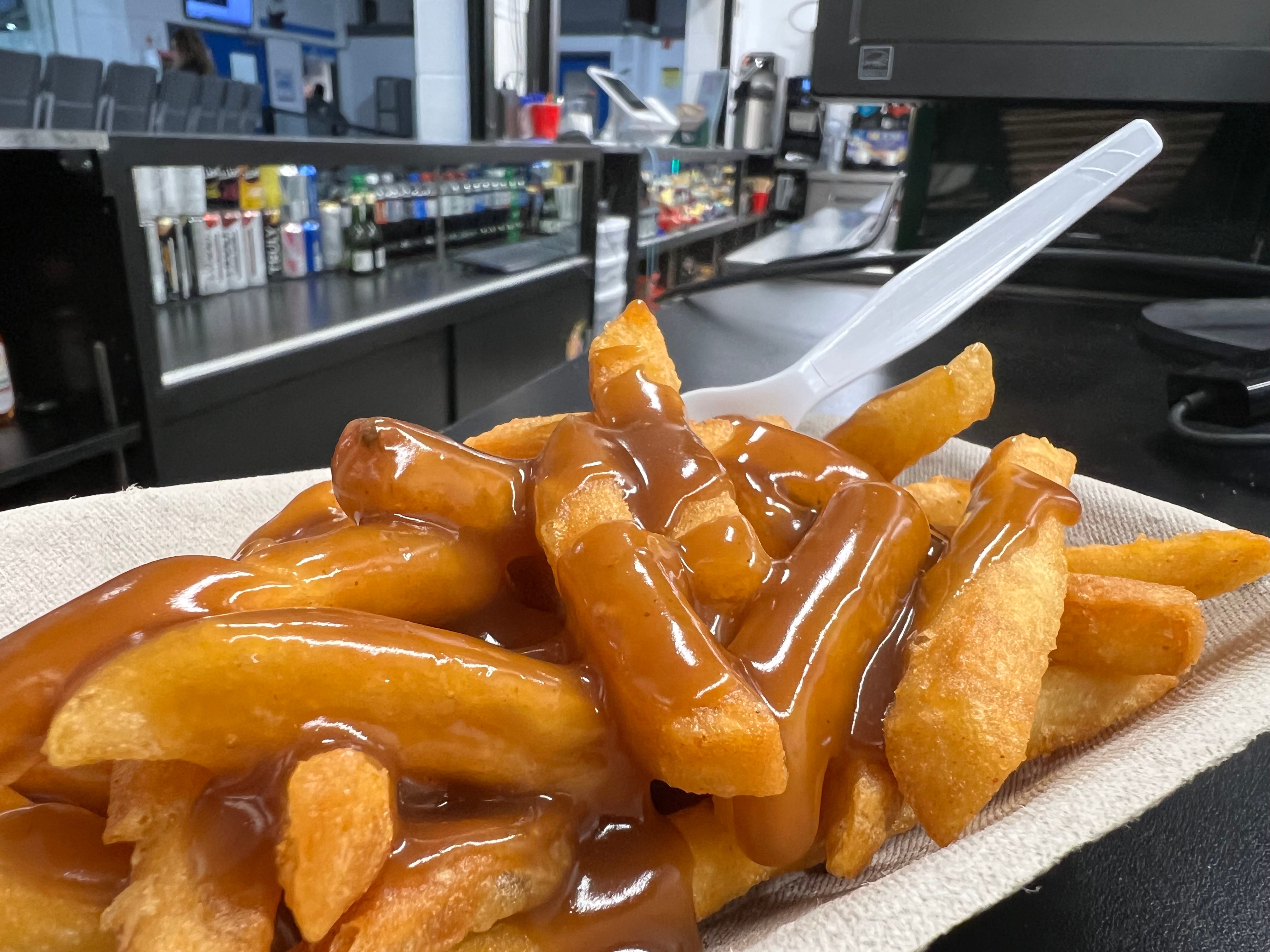 The Sweet Life Canteen Menu
at the Communiskate
We have a wide menu sure to meet everyone's tastes!
Hot Foods
Items made fresh upon ordering or can be preordered so it is ready when you need it
Hamburgers (add onions or bacon)
Cheeseburgers (add onions or bacon)
Chicken Fingers (honey dill, honey mustard, ranch, sweet & sour, bbq)
Smokies
Hot Dogs
Poutine
Stone baked Italian Pizzas 9" (cheese, Hawaiian or pepperoni)
Mozza Sticks
Onion Rings
Fries (add gravy)
Specials will be introduced periodically & on weekend tournaments like taco in a bag, soups, chili or a variety of wraps.
Breakfast Specials
Items made fresh
Breakfast Sandwiches: your choice of bacon or sausage with egg & cheese on a bakery bun
Fresh made waffles with syrup, strawberries & whipping cream
Mini donuts (10 per bag)
Mini donut sweetie (4 mini donuts on a vanilla sundae drizzled with chocolate or caramel sauce)
Dole Whip cups
Soft Ice cream in a cup or cone
Sundaes (chocolate, caramel, strawberry)
Chips
Chocolate bars
Ice cream sandwiches
Candy bags (mixed candy or livewires)
Milkshakes (chocolate, strawberry, caramel, rootbeer)
Slush (flavours change)
Floats (vanilla ice cream with coke, rootbeer, orange crush)
Bergs (slush with vanilla soft ice cream)
Pop (pepsi, 7-up, iced tea, root beer, dr pepper, diet pepsi, pepsi zero, diet dr pepper)
Gaterade (variety of flavours)
Pure Leaf iced tea (raspberry or lemon)
Juice (apple or orange)
Rockstar energy drink
Protein Shake
Chocolate milk
Bottled water
Frozen lemonade
Iced Capp
Hot Beverages - all come in regular or large sizes
All hot drinks come in regular & large sizes
Your choice of coffee creamer, 2%, skim or almond milk
Syrups come in regular & skinny (caramel, hazelnut, vanilla)
Drip coffee
Americano
Cappuccino
Latte
Mocha
Tea (earl grey, peppermint, chai, bengal spice, orange pekoe)
London Fog
Hot chocolate
Alcohol Beverages
We are licensed to serve alcohol after 9:30 am. All drinks must be consumed in the arena spectator area. Must be over the age of 19 to purchase and consume these beverages.
Rum slush
Bailey's milkshake
Coffee & Bailey's
Draft beer on tap
Beer in cans (variety)
Coolers in cans (variety)
Red Wine
White Wine
Highballs (variety)